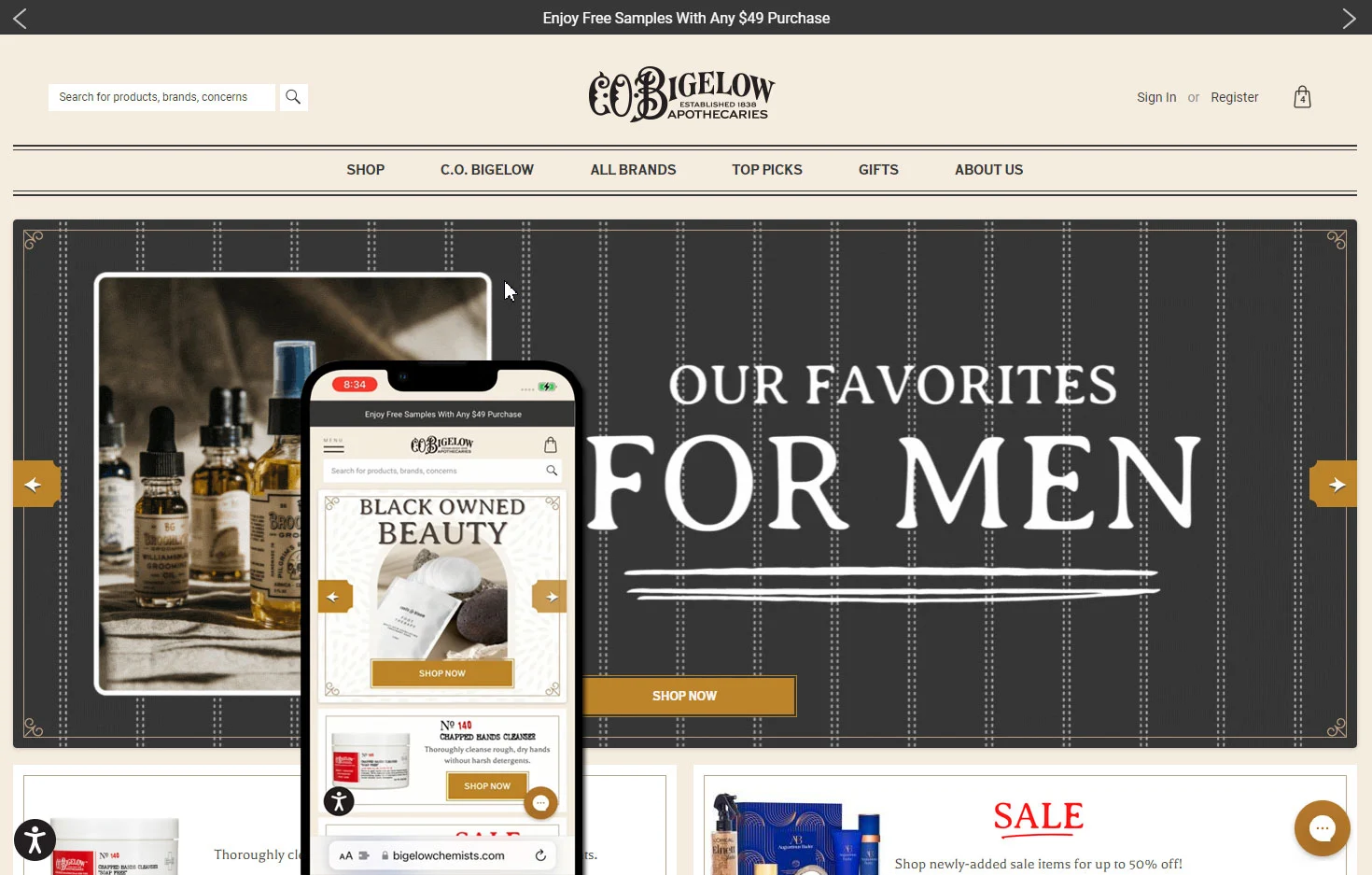 See C.O. Bigelow featured in the NY Times – https://www.nytimes.com/2021/02/26/t-magazine/co-bigelow-new-york.html
Scoop
Whether you are searching for a hard-to-find bath oil, a magical cream for stretch marks, or that elusive, but oh-so-wonderful aftershave, there is only one place for you: C.O. Bigelow. The 185 year old apothecary in New York City's West Village offers a wealth of personal care items and home fragrances taking great pride in carrying the most unique product selection in the city.
New Yorkers frequently say: "If you can't get it anywhere else, try Bigelow." But this statement is no longer restricted to inhabitants of the Big Apple only. In C.O. Bigelow's online store, customers across the US, Australia, Canada, England and Japan can purchase and enjoy the vendor's exclusive product selection.
Story
A real business pioneer, C.O. Bigelow decided early on to capitalize on the Internet's worldwide reach and built an online store to attract an international audience to its unique product assortment. But the effort fell short.The site lacked visual appeal, looking grainy and unexciting. Locating products proved difficult due to a poor navigation and an extremely busy layout.
On the front end, there were no product reviews, no advanced functionality, few customization features, and even fewer calls to action. A cumbersome check out process further impeded the shopping experience. On the back end, the site lacked scalability, and support for dynamic content and campaign changes. In short: www.cobigelow.com needed a complete overhaul to fulfil its great potential. Enter ECommerce Partners.
Solutions
First, ECommerce Partners and C.O. Bigelow defined several major goals for the project: build a successful ebusiness, promote the brand, improve the user experience, and ultimately grow online sales. ECommerce Partners started the project using its proven ERS (Ecommerce Requirement Specifications) methodology to provide comprehensive research and strategy, planning, and information architecture.
The creation of the actual Magento-based site followed shortly thereafter. To ensure top user comfort, ECommerce Partners implemented clearly organized home, category, and product pages; integrated the site with Celebros search; and created a streamlined, faceted navigation based on relevant search results. Now browsers can find the items they are looking for in a flash. Customer and product reviews have been added to help shoppers with their decision process and encourage them to try new items.
The new site features high quality pictures and a colour swatch display for make-up products. To further enhance user comfort, ECommerce Partners significantly accelerated and simplified the checkout process. All these new features combine to give on line customers the same exhilarating experience store visitors have been enjoying for years.
In a next step, ECommerce Partners integrated advanced functionality, such as video uploads to update the look & feel of this great, time-tested business. The site's online marketing capabilities also received a significant upgrade. ECommerce Partners integrated the site with Blue Hornet for segmented email campaigns and included custom promotions, such as "spend $x more and receive free shipping"
To further boost the pharmacy business, the new site was integrated with a third party solution for online prescriptions.
Services
To date, ECommerce Partners has provided C.O. Bigelow Apothecary with the following services:
AWS / RDS install with hourly backups
24/7 Devops Server and Endpoint Monitoring
Magento upgrade
99.95% Uptime
Firewall Protection
Consulting
Ecommerce Strategy
Ecommerce Solutions
Ecommerce Web Design
3rd Party Application Integration
Ecommerce Solutions
Ecommerce Web Design
3rd Party Application Integration
Email Marketing
SEO/SEM
Content and Copywriting
User Interface Design
User Experience
Information Architecture (AI)
Usability (UX)
We were originally referred to ECommerce Partners by one of our business partners. Ultimately we chose to work with them because of their extensive ecommerce knowledge, top quality customer support, business savvy and their technical expertise.