We have been developing e-commerce stores since 1998 and working with Magento since 2008. We work to build close relationships with our clients and consult with you to determine what your business needs are and deliver you a website that is rock solid. Whether you need help modifying an existing store or need a new e-commerce site built, we're here to help make the process as simple, efficient and cost effective as possible.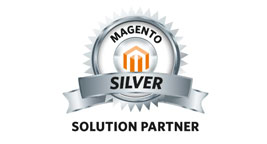 Devops & Hosting
We offer expertise in optimizing Magento server configuration, 24/7 support and 99.95% uptime. Our DevOps engineers are experienced in Magento code, deployment and monitoring to you never have to worry about it again.
Monthly Maintenance

We offer monthly plans for hourly work so you can easily forecast cost. From security patches, bug fixes to improvements, we have the talent to keep your eCommerce site running smoothly every day.
Custom Extensions & Frontend Development
The sky is the limit. We can implement any design you have and any functionality you can think of, using the latest frontend and backend frameworks together with Magento's extensive and growing technology.
Upgrade
Upgrading from Magento 1 to Magento 2.4.6 we've been there and done that, over 50 times! With the right planning and experience, upgrading features and maintaining Magento security can be a painless experience.
Systems Integration
Our powerful ECX (ECommerce Exchange) platform can easily migrate or integrate any system into your Shopify Plus store, including ERP, CMS, Fulfillment, PIM, Inventory, Shipping, Payment, Reviews, Loyalty, Email and much more.
Replatform
Moving to Magento or from Magento to another platfrom like Shopify or BigCommerce? We are experts in all 3 platforms and can help you make the move with (relative) ease. Call today.
Masters in Magento & More
To successfully build online stores that meet unique business requirements, we offer in-depth expertise with a host of ecommerce platforms. They range from simple WordPress ecommerce plugins, to more complex open-source solutions, to enterprise e-commerce systems, and to high-end technologies. With any platform used, our information architects, project managers, developers and designers invariably make sure to optimize the look, content, and functionality of a site while maximizing its speed, performance, and user comfort.
Since many of our customers work with Magento, our team is also particularly adept at optimizing and customizing this leading ecommerce platform. Having used Magento to create hundreds of ebusinesses, including some of the largest and most advanced ecommerce solutions currently on the market, our engineers are experts in both the Magento Community and Enterprise versions. That said, they tend to run even the most heavy traffic sites with complex product configurations and sophisticated business rules on the Community version, if possible.
Our Magento Service include:
Flexible ERP System Integration
We customize and enhance the Magento API to integrate with most common types of ERP systems including Everest, A2000 and BlueCherry. What this means for you? Top administration speed, regardless of the ERP you are using. A case in point: You can load over 100.000 SKUs, including price, order status, and more in a matter of minutes.
Advanced Hosting and Server Configurations
Depending on your needs, we leverage our sophisticated DDS architecture to distribute the Magento administration and application onto multiple servers. Why? Because we want to help you maximize the overall speed and performance of your online operation. Examples of our advanced hosting and server configurations include:
Deploying caching on high traffic website and optimizing the PHP programming for low latency
Balancing traffic and resources, by dynamically reacting to online traffic spikes while releasing just enough resources during non-peak hours
Creating server clusters on the cloud behind a load balancer for large ecommerce operations
Custom Magento Extension Development
We also specialize in designing and developing an extensive array of custom Magento extensions. Your benefit: You can maximize the functionality of your online stores. With our custom extensions and enhanced Magento functionality you can support a variety of features, including:
Offering a gift with a purchase
Integrating various leading email marketing technologies, including Blue Hornet, CheetaMail, Silverpop and Email vision, and tracking conversions
Permitting enhanced shopping with multiple filters
Enabling 3rd party address validation during checkout to reduce errors in shipping
Offering advanced promotions, such as "you are this far away from free shipping"
Supporting various subscription services
Allowing for coupons to be used during checkout