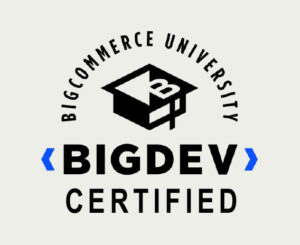 At ECommerce Partners, we tailor all our services to meet individual needs, and we help customers choose the ecommerce platform that works best for their business. For small and mid-size online shops, we often suggest BigCommerce.
A SaaS (Software as a Service) platform, BigCommerce offers online retailers the technology they require to scale without the high costs for servers and infrastructure normally associated with it.
BigCommerce eliminates all concerns around hosting, security, and PCI compliance, including regular upgrades. Valuable features like SEO, analytics, promotions, product reviews, coupons, faceted search, live chat, email marketing, shipping, order management, and many more are included from the get-go. Others can be added easily via BigCommerce's extensive App store. Open APIs ensure a seamless integration into individual customer environments.
Recent BigCommerce Projects
Replatform + Maintenance
Discovery, Requirements, Build and Maintenance. This is our process for success when moving from another platform to BigCommerce. And you can rest easy knowing you have the best maintenance and support to make sure your platform grows ahead of your business needs.
System Integrations
Our powerful ECX (ECommerce Exchange) platform can easily migrate or integrate any system into your BigCommerce store, including ERP, CMS, Fulfillment, PIM, Inventory, Shipping, Payment, Reviews, Loyalty, Email and much more.
Custom Theme and App Development
The sky is the limit. We can implement any design you have and any functionality you can think of, using the latest frontend and backend frameworks together with BigCommerce's API – the fastest and most powerful of any ecommerce platform.
A11Y (Accessibility)
We build our sites with accessibility in mind. Our experts and partners insure that your site meets WCAG 2.1 AA or AAA standards. If you need to get your site up to standards, we can jump in and make the necessary changes to ensure everyone can shop on your BigCommerce site.
Google PageSpeed
Faster loading site equals better user experience plus higher SEO rankings. Our crack team of developers will audit your site, find what's slowing it down and will make sure that not only your site loads lightning fast, but has a high Google Pagespeed score on desktop and mobile.
Omni, B2B & International
With the edition of new features such as Omni Channel, multi-store, international selling and now BigCommerce's acclaimed B2B Edition, scale is not a problem. The BigCommerce platform has everything you will need today, and in the future!
Recognized Full Service Agency by BigCommerce
As an official BigCommerce Partner, ECommerce Partners has used the technology to create a wide variety of stores, either building them from scratch or moving them to BigCommerce from a different platform. All are customized to seamlessly reflect the brands they represent, optimize the shopping experience, and drive sales.
With BigCommerce, we can streamline the production process. Typically, store design, development and delivery take us no more than eight to twelve weeks, from start to finish. And once the sites are implemented, we focus on what matters most—namely driving traffic to your ebusiness, optimizing it for conversions, and boosting your bottom line.
Designed for Success
Whether businesses are looking to migrate from an existing ecommerce platform, already have a BigCommerce site and seek optimization, or need an entirely new site designed and developed, ECommerce Partners works side-by-side with businesses to ensure that that their websites are poised for success.
Our process? Define a number of ecommerce goals in-line with your business objectives; improve user experience; increase efficiency; drive relevant site traffic; capture valuable customer data.
See for yourself the business growth we have delivered to numerous businesses: see our case studies.
Whether you need monthly maintenance or a brand new site, we have the skills and the experience to get the job done.