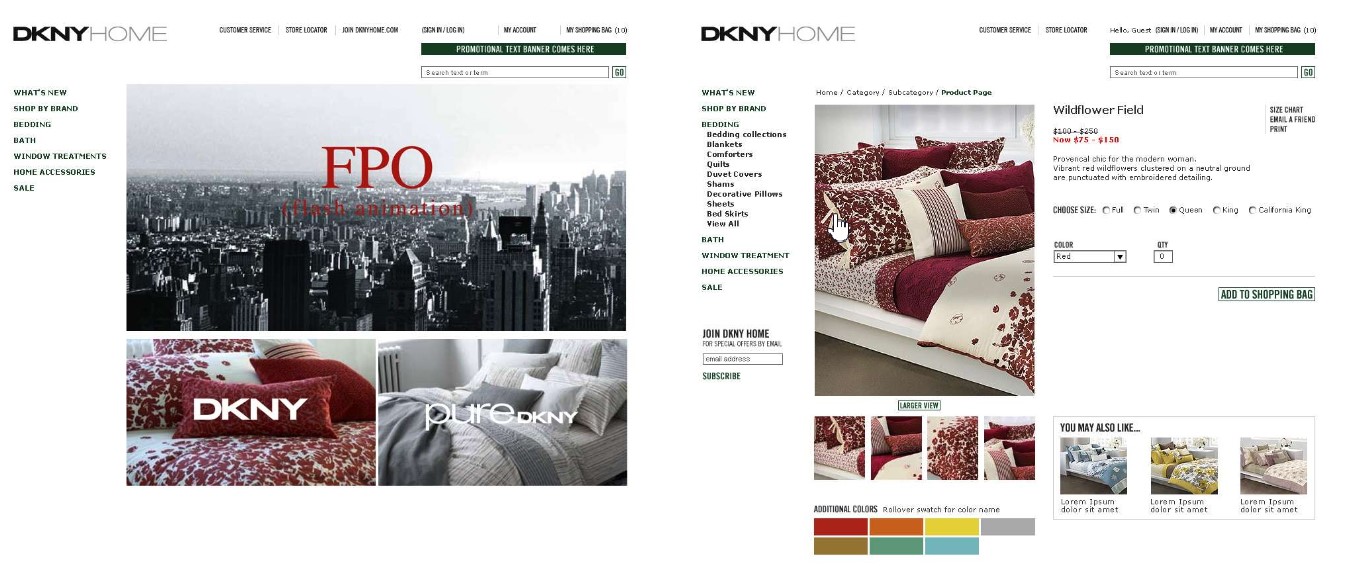 Dedicated ecommerce website for DKNY Home

Scoop
Need to buy crisp bed sheets, luxurious towels or stylish window treatments at affordable prices? Check out DKNY.  The famous apparel company founded by Donna Karan in 1985 in New York features a number of labels, including, in particular, DKNY Home, a quality bedding and home accessories line.
While the DKNY Home collection is well known throughout the US and sold both in store and online, the label has no dedicated ecommerce site, as of yet.  But this is about to change.  Ecommerce Partners is currently putting the finishing touches on the new DKNY Home online presence, one that will likely set the standard for consumer brand manufacturing.
Story
DKNY has long been selling its home collection in a number of department stores, such as Bed Bath & Beyond, Bloomingdale's, and Macy's. While brand awareness was widespread and sales were going well, DKNY felt that it was shortchanging its home collection by not assigning it its own dedicated website.
On partner sites, the products lacked adequate branding and search engine visibility was low. With limited update capabilities it proved challenging to always present the latest styles and models to the interested public. Finally, it was difficult to collect relevant customer data to personalize product offerings. In short, the company realized it needed its own online shop and asked ECommerce Partners to build it.
Solutions
The new site was designed to fulfill a number of goals: drive targeted traffic, generate leads, promote the DKNY Home brand, and grow online sales. At the same time, it also aimed at optimizing the handling efficiency, improving the user experience and enchancing customer communications.  As always, ECommerce Partners started with a systematic strategy phase, developing ERS (Ecommerce Requirement Specifications), an essential component of Ecommerce Partners' comprehensive methodology.
During this phase, the company gathered all relevant information on the brand and studied its customers as well as their prevlaent buying patterns when shopping for home textiles.  Based on what they learned, Ecommerce Partners developed a number of wireframes that in turn fed into the design phase.  The new design with its pure aesthetics and its intuitive navigation matches the brand to perfection, and makes the user experience efficient and enjoyable.  SEO best practices ensure maximum search engine visibility.
Services
ECommerce Partners has provided the following services:
Ecommerce Consulting
Ecommerce Strategy
Ecommerce Web Design
User Interface Design
Methodology for SEO Discovery Phase