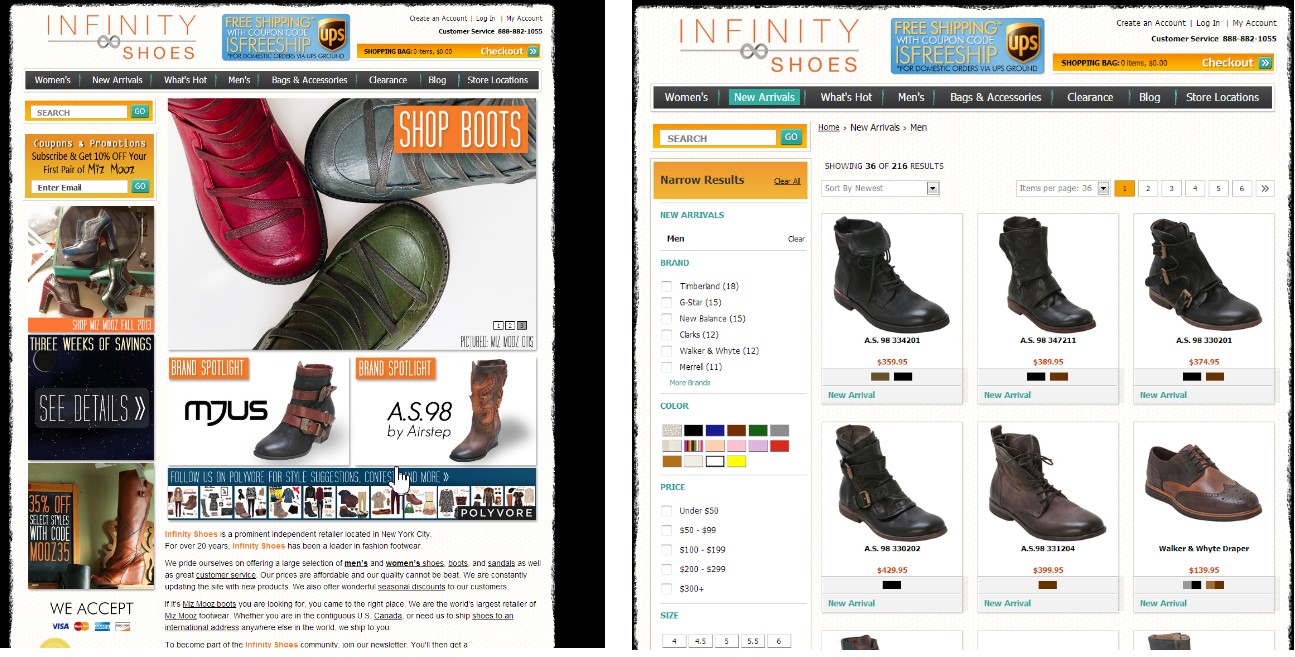 Endless possibilities for Infinity Shoes in-store and online
Scoop
Looking for sophisticated two-tone Mary Janes, a sexy pair of ankle-strap stilettos or comfy, low-heel, lace-up boots? Whatever your particular shoe needs, you'll find them instantly fulfilled at Infinity Shoes. Founded 20 years ago in Manhattan's stylish Soho area, Infinity carries a wide selection of trendy footwear for men and women.
Customers can choose from hundreds of famous brands, including Frye, Minnetonka, Dr. Martens, Old Gringo and Infinity's own Miz Mooz collection. The company's four stores along Broadway are popular destinations for Big Apple fashionistas while its state-of-the-art online shop caters to an international shoe-lover audience.
Story
At first, Infinity's foray into the world of ecommerce met some serious bumps. The original site suffered from technical kinks, performance problems, and a pronounced absence of user comfort. The design was outdated, the navigation ambiguous and the site search lacking.
As a result, cart abandonment was high. Needless to mention, the site offered no scalability, no up-sell and cross-sell functionality and no interactive applications. In short, traffic was low, conversion even lower, and Infinity knew it had to make serious changes. Enter ECommerce Partners.
Solutions
Infinity first briefed ECommerce Partner's on the company's unique business strategy. While carrying a wide variety of popular brands, the company primarily focuses on selling its own, stylish in-house line, which offers higher margins and a larger revenue potential than other collections. In-store sales people are trained to gently guide customers to Miz Mooz and offer up shoes from the line ahead of other brands, without, of course, ever overruling customer wishes. The company wanted to emulate this tactic online, and subtly drive visitors to Miz Mooz before bringing up shoes from other brands.
To ensure that the online business strategy would effectively support and complement Infinity's specific business model, ECommerce Partners also developed a customized ecommerce strategy. Advanced landing page optimization techniques and a sophisticated search mechanism were implemented to ensure that shoes from the Miz Mooz line receive preferred treatment over other vendors' offerings. In a next step, ECommerce Partners proceeded with the website design and development, including the integration of 3rd party solutions.
Together Infinity and ECommerce Partners then defined the following goals for their online venture: drive relevant traffic to the site, improve the user experience, grow online sales, and systematically build a successful ebusiness.ECommerce Partners started the project by creating a solid ecommerce foundation. They defined Infinity's ERS (Ecommerce Requirement Specifications), launched a systematic SEO discovery program, and performed comprehensive keyword effectiveness research.
Today, the site offers a particularly convenient user experience boasting an advanced search functionality including auto complete, a feedback tool, and a comprehensive cross-sell feature. Customers quickly find what they are looking for and the entire shopping and payment process is fast and enjoyable. ECommerce Partners also implemented a development module for custom cart features to support unlimited catalogue management, seamless payment processing, detailed site traffic and sales reports, analytics, product reviews, product feeds to multiple sites, and various promotion and marketing options.
Services
ECommerce Partners has provided the following services:
Ecommerce Strategy
Ecommerce Solutions
Ecommerce Web Design
Landing Page Optimization
User Interface Design
Graphics Design
Web Site Design
Content & Brand Websites
Ecommerce Development Module for Custom Cart Features
Ongoing Support & Maintenance
Ongoing Internet Marketing Services
"When we started out, back in 1991, we wanted to bring stylish, edgy footwear from all over the world to New York City. Our business quickly took off, and we found ourselves launching one store after another to respond to the ever-growing, local demand. The next logical step for us was to develop an online destination that would open up our business to customers around the world. While technically supporting this concept, our first site did not meet expectations. So we began looking for a new ecommerce partner, one that combined business savvy with technical expertise and offered a one-stop shop for all our online marketing needs. When we met ECommerce Partners we knew we had found the perfect match for us. What cinched the deal for us was how quickly they grasped our unique business model and how astutely they proposed to translate it online. Ever since, we've been working with Asi, Gil and their team, and we could not be happier. Not only have they helped us to create a booming ebusiness, they've also bolstered our branding campaign. Their business acumen and ecommerce know-how are nothing short of extraordinary. And so, I should say, are their attention to detail and their outstanding customer care."