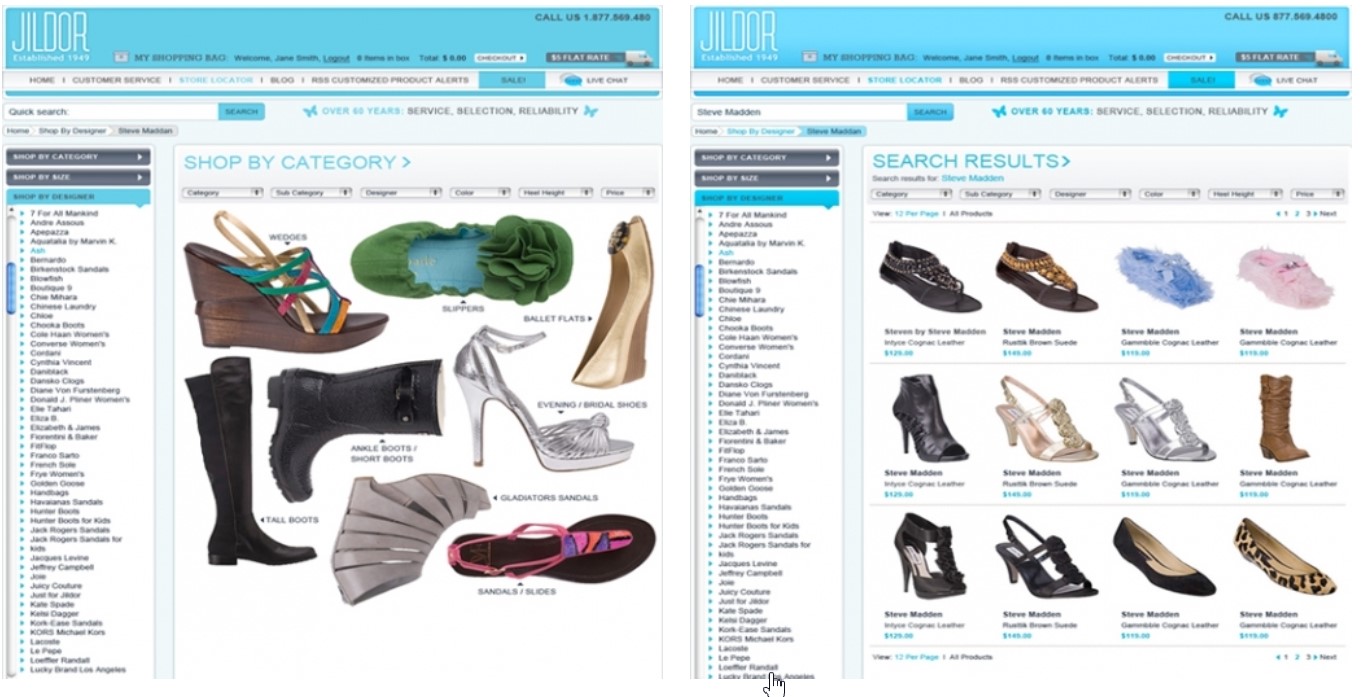 Retail Success… Jildor Online AND In-Store
Scoop
Want sexy Stuart Weitzman heels, pretty Tory Burch sandals, or stylish Ugg boots? You can find them all and much more at Jildor Shoes. A well-known purveyor of shoes for work, dress and casual wear, Jildor carries scores of designers such as Juicy Couture, Marc Jacobs and Steven Madden.
With four retail outlets in the greater metropolitan area, Jildor has been a household name in New York for the past 60 years delighting shoppers with a fabulous selection and legendary customer service. Now Jildor is also running a highly successful international ecommerce business, which boosts corporate revenues both online and in stores.
Story
The company's forays into the world of ecommerce have however not always been smooth sailing…
First recognizing the promise of the web back in the late 1990s, Jildor launched a website to sell some 30 brands. The experiment proved disappointing, though. Traffic was scarce, conversions even scarcer, and sales would just not pick up. There were, of course, a number of problems: The site was neither user nor search engine friendly, featured virtually no back office integration, and did little to support the brand.
Site search was limited and online customer service lacking. Finally, while a considerable budget had been assigned to PPC, traffic to the site remained limited in both numbers and quality. Jildor understood that it needed a real change to become successful on the web. In 2002, the company looked for a new partner to help take its ebusiness to the next level. That's when Jildor discovered ECommerce Partners.
Solutions
Together Jildor and ECommerce Partners analyzed the existing problems, devised a new e-strategy and defined the following goals: improve user experience, streamline website administration, grow online sales, and drive referrals to the retail stores. To achieve these goals, Ecommerce Partners developed a completely new ecommerce site. It now accommodates over 100 brands and more than 10,000 SKUs, grows seamlessly as new styles are added, features an easy, intuitive navigation, and engages visitors with a glamorous look that matches and reinforces the Jildor brand. The new website is also carefully designed to cater to search engines, an extremely important criteria in the competitive shoe industry, where online shoppers call for a quick and easy way to locate and purchase the models they are looking for. Indeed, sophisticated strategies ensure that Jildor products hit search engines even before they hit warehouse shelves and consistently score page-one rankings for most models.
What's more, Jildor's ebusiness, just like its brick-and-mortar counterpart, now truly excels in customer service. For example, shoppers can pre-order shoes that are expected but have not come in yet, and receive an RSS alert when their specific brand or size has arrived. Custom designed postcards inform clients about sales and new arrivals, and branded thank you notes after each purchase let them know that their patronage is appreciated. Jildor further personalizes the online shopping experience with a monthly newsletter for each of the five customer segments, with shoppers receiving targeted content depending on their specific areas of interest. International delivery and a comprehensive affiliation program round out Jildor's customer care package.
Services
ECommerce Partners has provided the following services:
Ecommerce Solutions
Ecommerce Website Design
ECommerce Development Module for Custom Cart Features
User Interface Design
Graphics Design
Web Site Design
Search Engine Methodology
Affiliate Program — Commission Junction
Email Newsletters
Ongoing Hosting & Site Maintenance
"We wanted to create an ebusiness that would provide the same outstanding selection and customer service as our stores while extending our reach worldwide and offering maximum personalization. With ECommerce Partners on board, we achieved all our goals. We have become the go to place for dress shoes online. To say that I was impressed with ECommerce Partners` Internet expertise, their technical know-how, and their retail business savvy would be an understatement. These guys are terrific and a real asset for anyone looking to sell online!"