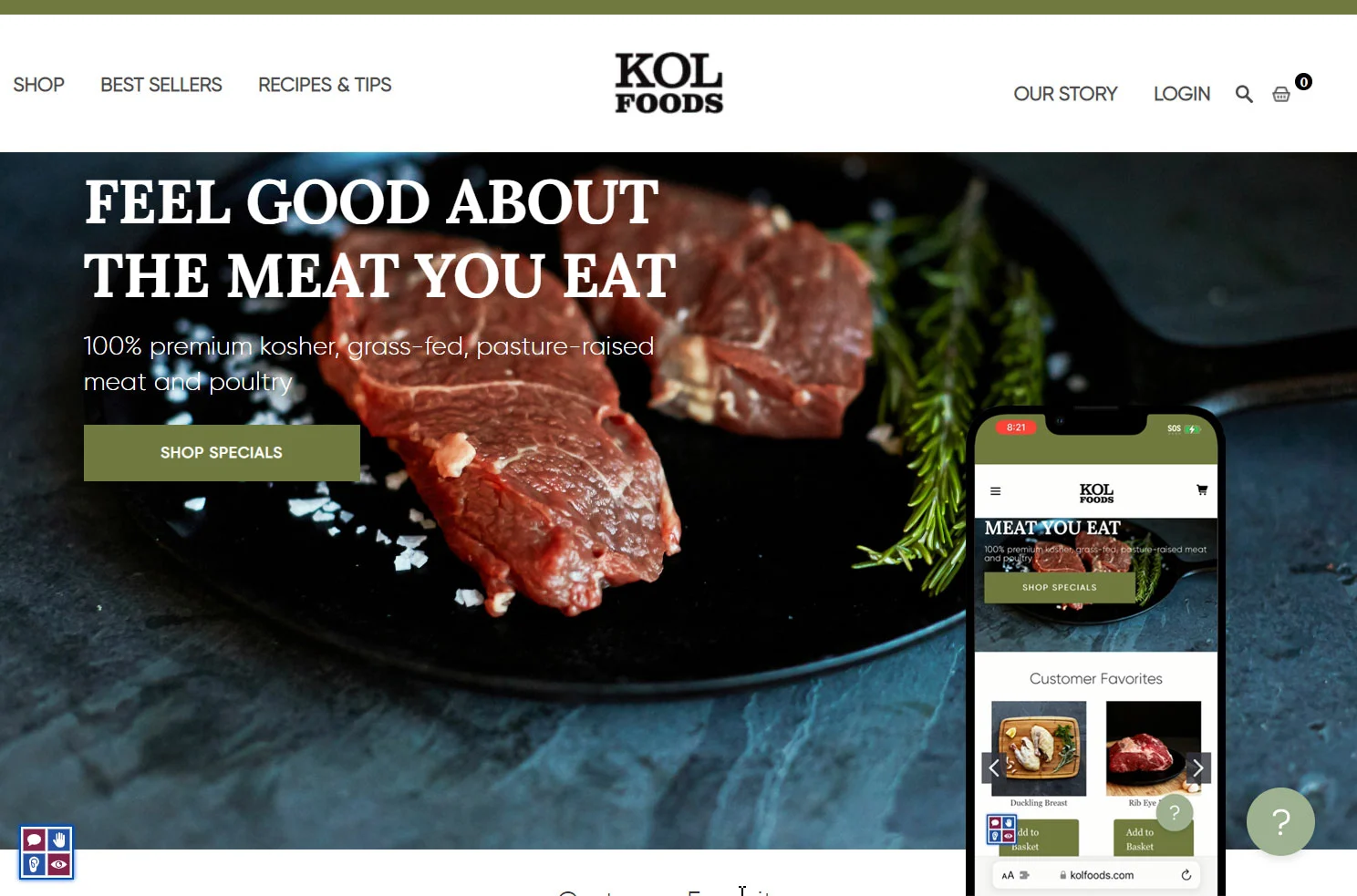 Case Study: KOL Foods Ecommerce Site Development
KOL Foods, a leading provider of Kosher food products, was facing a significant challenge with their ecommerce site. They were using an outdated and difficult-to-manage ERP system, which made it difficult to make changes and update their site. In order to keep up with the demands of their customers and the rapidly changing ecommerce landscape, KOL Foods knew they needed a solution that could provide them with the flexibility and scalability they needed.
Ecommerce Partners was engaged to help KOL Foods with their ecommerce site development. We started by conducting a comprehensive assessment of their current site and ERP system to understand the specific challenges they were facing. Based on this assessment, we developed a customized solution that would meet their unique needs.
One of the key components of this solution was a custom app that we developed for price/lb updates and PDP variant functionality. This app allowed KOL Foods to manage their pricing and inventory in real-time, ensuring that their customers always had access to the most up-to-date information.
We also integrated ECX into KOL Foods' ecommerce site to provide them with the best possible pricing, inventory, and fulfillment solutions. This integration allowed KOL Foods to manage all aspects of their ecommerce site from a single, centralized platform, which significantly improved their operational efficiency and scalability.
Another important aspect of the solution was custom theme development. We worked closely with KOL Foods to understand their brand and their customers' needs and developed a custom theme that would provide them with a modern and user-friendly ecommerce experience.
We also provided ongoing maintenance and support to KOL Foods, ensuring that their site was always up-to-date and functioning at its best. This included regular software updates, security patches, and performance optimizations.
In addition to these key components, we also integrated ShipperHQ for shipping and HelpScout for customer support. We also provided KOL Foods with an AS400 integration using ECX, which allowed them to manage their entire ecommerce site from a single platform.
The result of this project was a modern, scalable, and highly functional ecommerce site that met all of KOL Foods' needs. They were able to improve their operational efficiency, provide a better customer experience, and stay ahead of the curve in the rapidly changing ecommerce landscape.
In conclusion, Ecommerce Partners was able to help KOL Foods overcome their ecommerce challenges by providing them with a customized solution that met their unique needs. The result was a modern, scalable, and highly functional ecommerce site that provided their customers with a better experience and helped KOL Foods stay ahead of the curve in the rapidly changing ecommerce landscape.