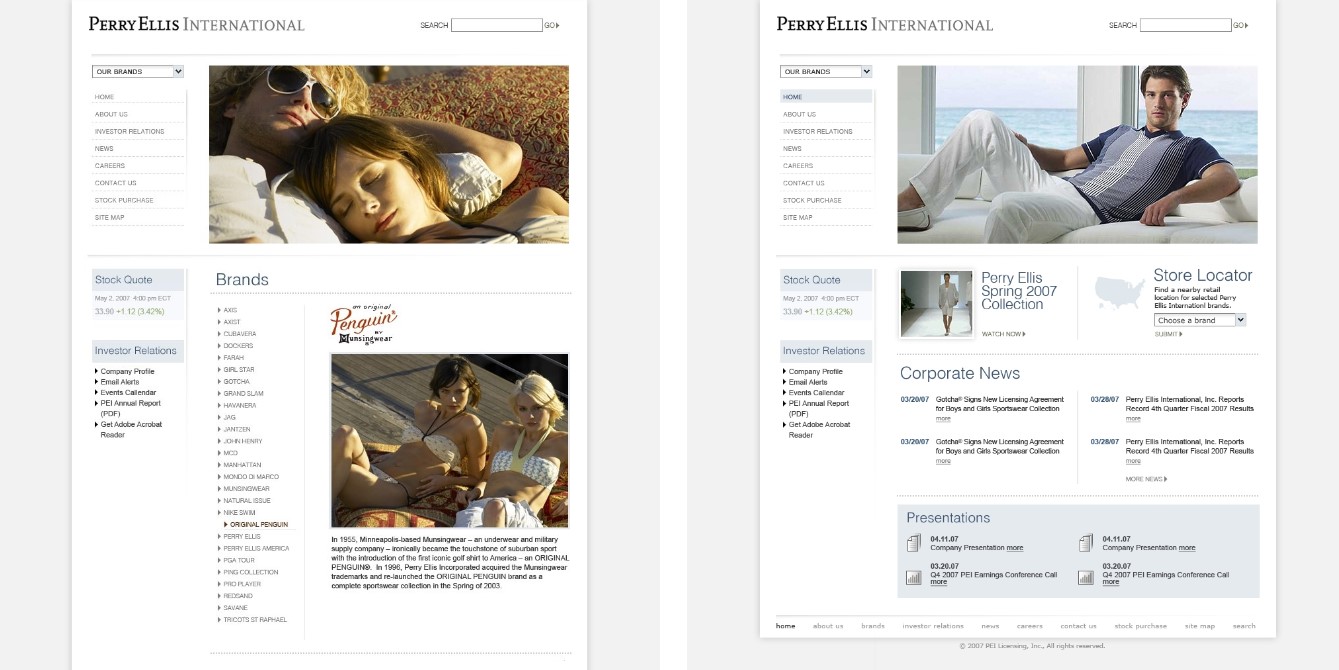 Pery.com designed to fit multiple audiences
Scoop
Perry Ellis International is a leading designer, distributor, and licensor of high quality apparel, accessories, and fragrances. The company owns multiple brands, including Perry Ellis®, Laundry by Shelli Segal®, Original Penguin® by Munsingwear®, and many more. It also licenses trademarks from third parties, such as Nike®, Callaway®, and PGA TOUR®. Merchandise is sold in department stores and specialty outlets, as well as online and in the company's own retail stores.
To create additional sources of revenue and increase brand awareness around the world, Perry Ellis International also licenses its proprietary brands to third parties in categories or territories, in which the company does not maintain direct business operations.Perry Ellis International's site, www.pery.com, caters to three target groups: visitors who want to learn more about the brands and the parent company behind them; investors who need to research company news and performance data, and potential employees who look to explore career opportunities.
Story
Before Perry Ellis International decided to launch a new online presence, the company already had a brochure website in place. But the old site had several problems, including a pronounced lack in user comfort, outdated design and graphics, multiple branding issues, and missing interactivity.
Without an integrated content management system, the site was also difficult to update. In short, Perry Ellis International needed a new online presence to communicate with visitors, investors, and job seekers. Enter ECommerce Partners.
Solutions
ECommerce Partners started the process using the proven Website Requirement Specification (WRS) step-by-step methodology and systematically moving through the stages research & strategy, planning and information architecture.
First Perry Ellis International and ECommerce Partners defined a number of goals for the new site, including improving the user experience, enhancing the communication with various target groups, offering corporate information, and skillfully promoting the umbrella brand as well its multiple sub-brands.
Then ECommerce Partners designed the new site, introducing a clear, easy-to-use navigation, appealing visuals, an elegant flash animation to showcase the different brands, and a look and feel that is both corporate and hip effectively matching the Perry Ellis International brand.
Since the site needed to be geared to three distinct target audiences, Ecommerce Partners made sure to include pertinent content for all. Stock quotes and Intraday Charts as well as a corporate news feed on the home page cater to investors; a readily accessible career page speaks to job seekers; and a comprehensive 'About Us' section as well as dedicated pages for each site give visitors a thorough overview of Perry Ellis International. Each of the brand pages, in turn, contains relevant information for all three target groups.
Services
ECommerce Partners has provided the following services:
Consulting
User Interface Design
User Experience
Graphic Design
Web Site Design
Online Advertising Design
Content and Brand Websites
Copywriting & Website Content
Search Engine Methodology
"For over thirty years, Perry Ellis International has been housing a large number of quality lines. But while individual brands have become famous over the years, the powerful organization behind them long remained unknown. We wanted an online presence that would create awareness for the umbrella brand and offer pertinent information to three distinct audiences – general visitors, investors and employment seekers. We knew ECommerce Partner from their prior work for Perry Ellis and Original Penguin. So tapping them for our new corporate website was a no brainer for us. Once again, ECommerce Partners impressed us with their creativity, Internet expertise and outstanding customer care."