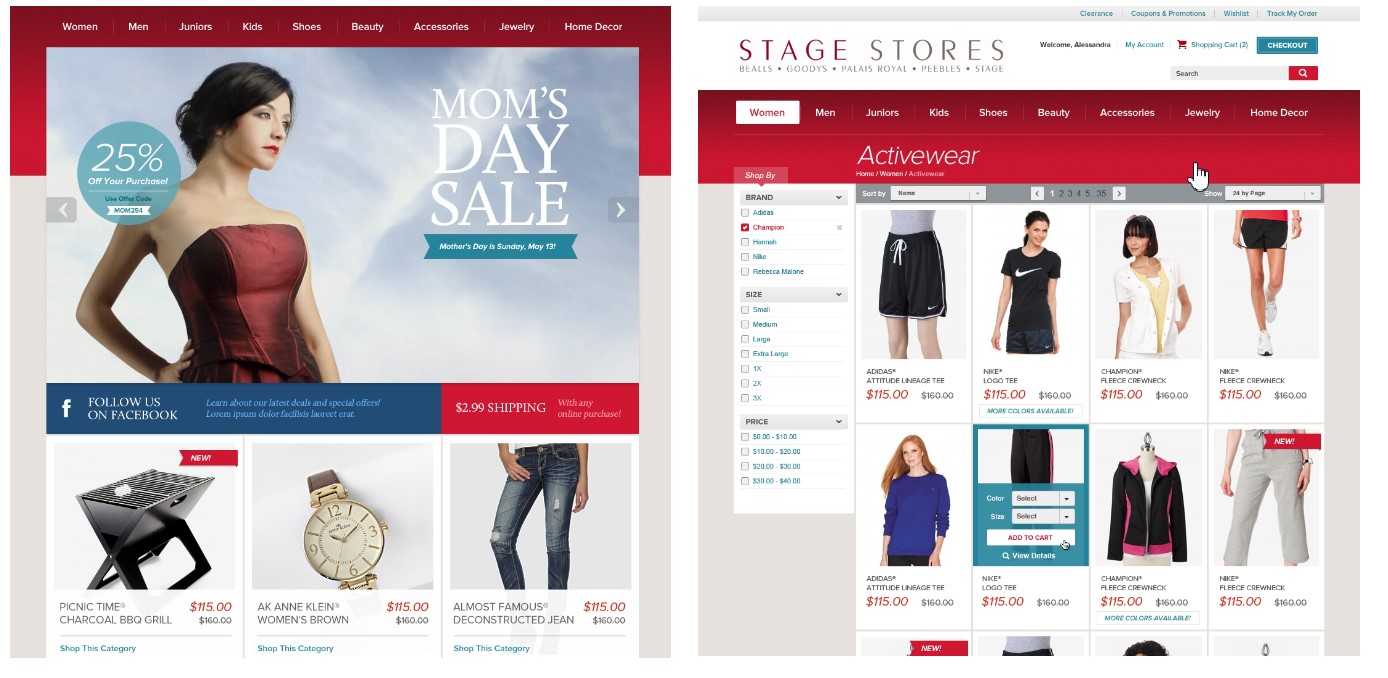 Setting the Stage for Online Success
Scoop
Want to get great brands at affordable prices? Need to buy quality clothing, cosmetics, footwear and more for the entire family but can't spend a fortune? Check out Stage Stores. For almost a century now, Stage Stores has been providing America's families in small to mid-size communities around the country with a unique retail environment, offering a broad range of moderately-priced, high-end merchandize and stellar customer service.
Today, Stage Stores is a trusted retail empire with 780 stores across 39 States, operating under various trade names, including "Bealls," "Goody's," "Palais Royal," "Peebles," and "Stage." Eager to extend its reach and bring its unique retail experience to additional customers across the nation, Stage Stores recently decided to launch an online business and commissioned ECommerce Partners to design, develop, and maintain their new Internet presence.
Story
Years ago, Stage Stores had revolutionized retail by offering a vast product selection at easy-to-reach stores enabling customers in residential areas to buy the same great products they would get in town without having to travel far. Going online now seemed like the logical next step for them. But the task was daunting because of the sheer volume of products. Stage Stores worried that their ecommerce site would have to trade product range for speed.
A site offering all their goods would be sluggish; a limited-supply alternative would deprive customers of the full shopping experience, so they reasoned. Check out was an additional concern. Stage Stores wanted to keep their existing, proprietary POS platform in place. In short, the technological challenges seemed manifold and prevented Stage Stores from realizing what they sensed would be a huge online potential. All this was about to change when ECommerce Partners entered the picture.
Solutions
While Stage Stores had advocated a pilot site, at first, the success of ECommerce Partners' initial solution convinced them to go the next step. Together, Stage Stores and ECommerce Partners then defined a number of ultimate project goals: build a successful ebusiness, house a vast product offering, create a fast and easy-to-use website, and integrate Stage Stores' existing systems with the site's back and front end. With these goals in mind, ECommerce Partners set out to build www.stagestores.com. To ensure the site's systematic progress and lasting success, the agency started, as it usually does, with its proven ERS (Ecommerce Requirement Specifications) methodology, covering research & strategy, planning, and information architecture. Then ECommerce Partners proceeded with the design and development of the site focusing on how best to accommodate the extensive offering without compromising on browsing speed. When ECommerce Partners suggested a Magento-based platform for the site, Stage Stores was concerned, at first, that it would be too resource intensive and too slow.
Again, ECommerce Partners was able to alleviate the concerns fully customizing the platform to Stage Stores' unique needs. They optimized Magento's codebase and the JavaScript, and created a CDN for image management to build a site that now features well over 10.000 SKUs and offers loading times of less than a second per page – even during peak times! Several load balanced servers were put in place to offset traffic spikes, and a separate cache system was added to let users switch almost instantaneously from one listing page to the next. ECommerce Partners' engineers also leveraged their extensive Magento expertise to create a setup that offloads the administration process to a separate system, one that is optimized to handle large inventory updates. So now, Stage Stores can update their inventory at any time, without affecting front end performance. As for the checkout issue, ECommerce Partners integrated Magento's checkout process with Stage Stores' proprietary payment system and gift cards. To round out the picture, a number of 3rd Party applications, such as Melissa Data® address verification and Sabrix tax validation were also integrated with the site. What's more: ECommerce Partners was able to deliver all the above functionality a few months ahead of schedule.
Services
ECommerce Partners has provided the following services:
Ecommerce Solutions
Ecommerce Web Design
3rd Party Application Integration
User Interface Design
User Experience
Information Architecture (AI)
Graphic Design
Methodology
ERS (Ecommerce Requirements Specifications)
ECommerce Development Module for Custom Cart Features
Unlimited Catalogue Management
Secure Shopping Cart
Payment Processing
Product Zoom Feature
Offline Store Manager
Additional Checkout Options
Integration of 3rd party back-office applications
Ongoing Site Optimization
24/7 Support & Maintenance
Online Marketing
Ongoing Hosting
"Black Friday was spectacular, estimated 150,000 visitors and over 4,000 transactions"