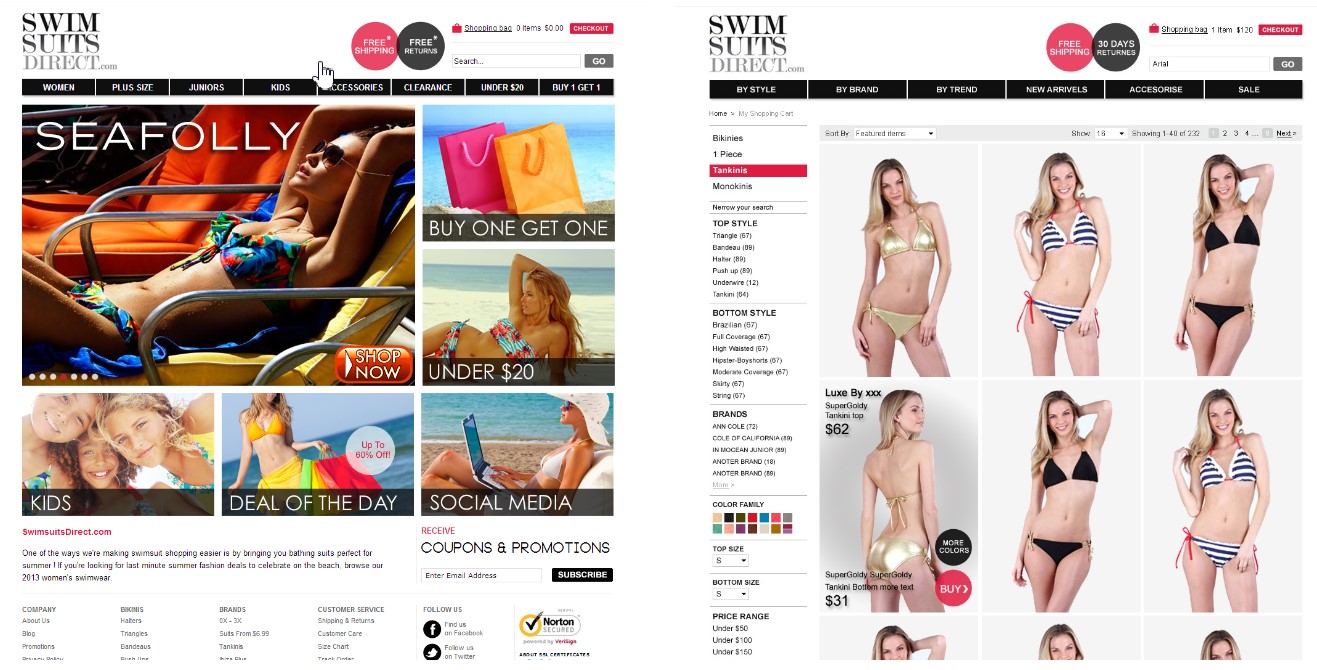 Scoop
Finding the perfect swimsuit can be a challenge. Everybody has different needs when it comes to style, shape, size and fit, but all want their swimwear to be flattering, subtly highlighting best features while hiding little imperfections. At Swimsuits Direct, you will find just what you are looking for.
No matter whether you want to show off your waist, conceal your hips, flaunt your bust, or prefer to choose based on style: a slimming one-piece, an alluring bikini, or a flattering tankini. What's best: At swimsuitsdirect.com you can choose the perfect swimwear from the comfort of your home and enjoy a convenient, thoroughly enjoyable, hassle-free shopping experience.
Story
Prior to working with ECommerce Partners, Swimsuits Direct already had an online presence in place. But the company's previous site suffered from a number of problems, including an ambiguous, cumbersome navigation, an old-fashioned look and feel, and a marked lack of branding. Poor performance and low visibility in search engines did not help either.
And with no support for dynamic content changes, the site felt static and dated. As a result, Swimsuitsdirect.com featured low conversion rates and produced insufficient revenues. Before long, management decided to overhaul the site and called on ECommerce Partners to build a new, state-of-the-art ebusiness.
Solutions
Swimsuit Direct's revamped ebusiness was completed in under six months. With over 60,000 site views, an average of 6.5 pages visited per session, and thousands of orders fulfilled in the first quarter since its inception, the site turned into an instant success. More visibility and stronger online branding is accounting for a steady increase in relevant traffic including scores of new visitors and shoppers.
The site's enhanced user experience along with its rich product catalog is also yielding ever higher conversion rates, ticket sizes, and overall online revenues. In short, swimsuitsdirect.com is producing a rapid and measurable ROI. And the company's partnership with ECommerce Partners continues to grow, too. ECommerce Partners provides Swimsuits Direct with a number of services, including support & maintenance, hosting, internet marketing, and continuous strategy consulting.
Services
To date, ECommerce Partners has provided the following services:
Consulting
Ecommerce Strategy
Ecommerce Solutions
Ecommerce Web Design
3rd Party Application Integration
Ecommerce Solutions
Ecommerce Web Design
Email Marketing
SEO/SEM
Content and Copywriting
User Interface Design
User Experience
Information Architecture (AI)
Usability
"We wanted our site to reflect the quality, comfort, and style of our swimwear collection and called on ECommerce Partners to help us meet this goal in record time. We had started the project in January of 2012 and needed the site to go live well before the start of the summer, our main season. ECommerce Partners rose to the challenge and surpassed our expectations at every step of the way. "